Salman Khan's fans know that Bajrangi Bhaijaan is the best. His well-wishers have supported him in every possible way. His fans love to keep a track on each and every activity of their favourite star. Be it the controversies, the films, the social cause or his much-hyped personal life - Salman Khan is always the hot subject of the social media.
Well, if you think Salman Khan might settle down in near future, here's why we think he may remain single forever.
1. "I will get married by the end of this year"
Every year the actor claims that he will get married by the end of the year, but nothing officially gets confirmed.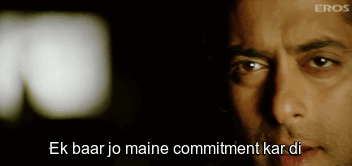 Source: indiatimes
2. The Dabangg actor is still searching for his lady love.
After dating numerous beautiful women, Salman, still hasn't found the love of his life.
Source: tumblr 
3. Too busy with his professional life.
The actor is too busy shooting, working on charities and getting involved in controversial cases to think of settling down in his married life.
Source: tumblr 
4. His ex- girlfriends are married or taken.
Too bad for Sallu Bhai.
Source: tumblr 
5. His pending court cases.
One of the major reasons why he cannot settle for a normal married life.
Source: tumblr
Featured Image: businessofcinema