When it comes to breakfast, the options are endless. Pancakes or waffles? Bacon and eggs? Muffin, followed by a pastry? So why limit chowing down on delicious breakfast foods to the morning hours? Here are 34 healthier snack options to keep filling those breakfast food cravings all month long.
Better Breakfast Snacks
1. Avocado Toast With Egg
Sometimes, simple is just better. In this recipe, 2 slices of whole-grain bread, lightly toasted, topped with smashed avocado and a sprinkling of salt and pepper makes for a flavorful and rich base. Top that with two sunny-side-up eggs for a healthy dose of protein, and you've got a well-rounded breakfast. Stack 'em in a tupperware container for easy transport or cook the yolks a bit more and make the whole thing into a sandwich.
2. Peanut Butter Banana Smoothie
Smoothies are a perfect on-the-go snack any time of day. Blend 1 frozen banana, 2 tablespoons peanut butter, 1 cup almond milk, and a few ice cubes. If this is a morning snack, keep it in a tight-sealing container and throw it in a gym or work bag. For an afternoon boost, prep it the night before and freeze, remove in the morning, and it will be thawed and ready to enjoy after lunch. Tip: Add a scoop of your favorite chocolate or vanilla protein for an extra protein boost.
3. Zapped Scrambled Eggs With Veggies
Yes, it's possible to make really good scrambled eggs in the microwave. And it's easy! Beat 2 eggs, throw in a microwave-safe container, add 1 handful of your favorite veggies (cherry tomatoes and spinach leaves work well), and a sprinkle of cheese. Zap the mixture for 30 seconds, stir, and cook another 30 seconds, or until eggs are solid. Throw a top on the container to eat later, or store the raw mixture in a fridge until ready to heat and eat.
4. Fruit and Yogurt Parfait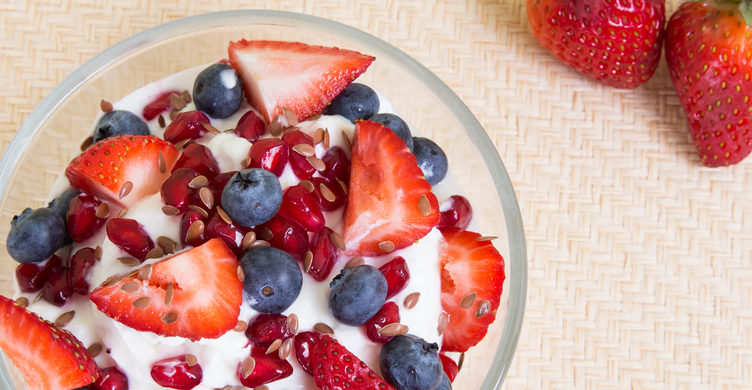 One of the easiest, healthiest, and tastiest breakfasts out there is a classic fruit and yogurt parfait. The best part? It can be made with any toppings you like. Try choosing fruits that are in season for the most flavorful options. (Try our stone fruit salad for summer, and opt for apples come fall).
5. Breakfast Burrito
Who doesn't love a burrito? Breakfast burritos are a great, easy snack to keep on hand. Scramble 2 egg whites, 1/4 cup black beans, 2 tablespoons salsa, and 2 tablespoons shredded cheese, and wrap in 1 small whole-wheat tortilla. Make a bunch, wrap in foil, and keep in the freezer for whenever the craving hits. Protein from the eggs and black beans keep you fuller longer, and the spicy salsa keeps things interesting.
6. Healthy Morning Glory Muffins
An oat-based muffin packed with healthy carrots and zucchini, lightly sweetened with raisins and just a pinch of sugar makes a perfect breakfast or snack. Use a mini-muffin tin for smaller portions, and eliminate or cut back on the brown sugar or choose a healthier substitute to cut back on sugar.
7. Breakfast Quinoa Bites
Here's a new way to enjoy quinoa: make mini quinoa breakfast quiches! In a medium bowl, combine 2 cups cooked quinoa, 2 eggs, 1 cup your favorite veggies (spinach or zucchini work well), 1 cup shredded cheese, and a sprinkle of salt and pepper. Portion into a lightly-greased mini muffin tin, and bake at 350 F for 15-20 minutes. These are easy to bring along and delicious to enjoy warm or coll
8. Fruit and Yogurt Smoothie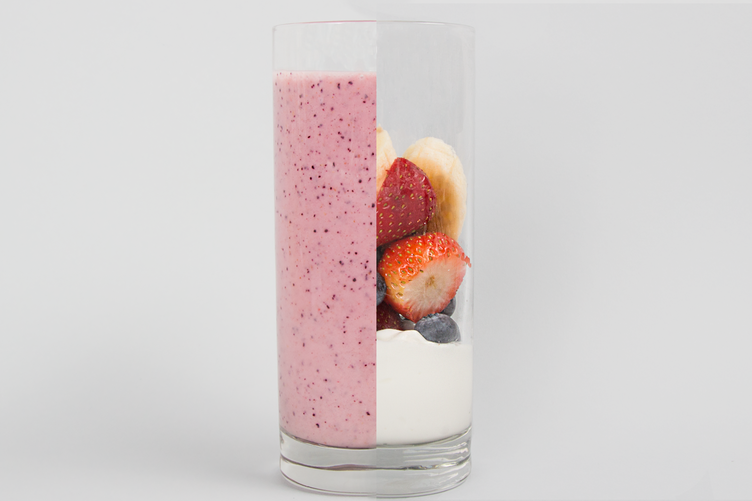 Here's a simple and delicious smoothie recipe for the morning rush. Blend 1 cup plain Greek yogurt with 1 cup frozen fruit (banana and berries work very well) with 1/2 cup liquid (milk, juice, coconut water—whatever you like). Freeze overnight and thaw throughout the day to enjoy in the afternoon, or blend up in the morning.
9. Leftovers n' Egg
Stuck with last night's leftovers? Place a scoop of leftover roasted veggies, potatoes, or meat in a container, top with a cracked egg, and heat in the microwave until the egg white is cooked through, 30 to 45 seconds. (Or prep in the oven.) Feeling fancy? Sprinkle with some freshly grated parmesan cheese.
10. Fruity Breakfast Quinoa
Cooking quinoa in milk (cow, soy, or almond) and adding some sweet spices and fruit makes for a great substitute for classic hot breakfast cereals. Plus, it's high in protein and essential amino acids like lysine, which is essential for tissue growth and repair. Simply cook quinoa according to package instructions, but substitute milk for water, and add some cinnamon or nutmeg instead of salt and pepper. Top with fresh berries and chopped roasted nuts.
11. Zucchini Bread Oatmeal
Take a classic baked loaf and make it into oatmeal with this recipe! Adding shredded zucchini to oatmeal is a great way to fit in an extra serving of veggies. Throw on a handful of toasted walnuts or pecans for some added crunch.
12. Quinoa Fruit Salad
Spice up a plain old fruit cup with a scoop of quinoa. Toss the whole shebang around until the quinoa is evenly distributed through the fruit. Add a scoop of plain yogurt and a drizzle of honey for a little extra body.
13. Oatmeal Squares
Oatmeal is a great option for a hearty snack or breakfast, but what's the best way to make it into a more convenient and portable snack? Bake it into squares!
14. Pumpkin Oatmeal Bowl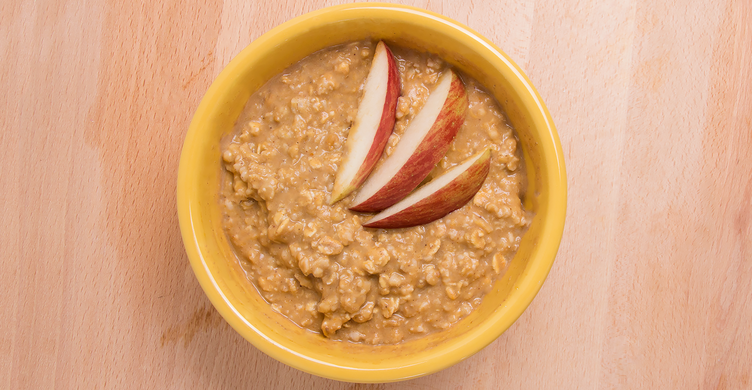 A heaping dollop of pumpkin puree is a great way to squeeze in an extra dose of veggies. Plus, the super-orange super food is packed with nutrients and a healthy dose of fiber. This recipe pairs the pumpkin with quick oats, pumpkin pie spice, and almond milk for a quick and easy breakfast on-the-go.
15. Ricotta and Tomato Breakfast Sandwich
Here's a healthier take on the classic breakfast sandwich: Take 2 slices of a hearty whole-grain bread, spread each slice with 1 tablespoon ricotta cheese and sprinkle with kosher salt and fresh cracked pepper to taste. Add 1-2 hearty slices of fresh beefsteak tomato (blotted with paper towel to remove excess liquid) and enjoy.
16. Zucchini Muffins
Any way that fits a serving of veggies into a delicious baked good is a winner in my book. These zucchini and banana muffins with flaxseed fit three healthier options into one easy-to-tote package.
17. Peanut Butter, Banana, and Oatmeal Breakfast Cookies
Cookies for breakfast? Yes please! While Oreos or Chips Ahoy may not make a balanced breakfast, a homemade cookie made of banana, peanut butter, protein powder, and oats is a wholesome choice. Plus, you can pick and choose what you like to mix—go for almond butter and raisins in one batch, or peanut butter chocolate chip in another.
18. Waffle PBJ-Wich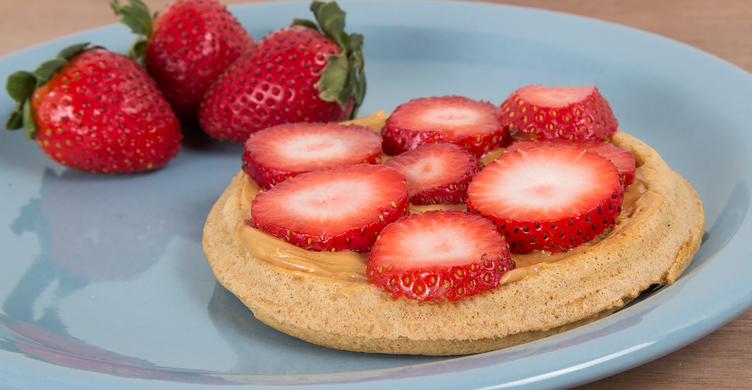 Try this sweet take on a classic breakfast sandwich the next time eating on the go. Prepare 1 whole-grain toaster waffle and slice in half. Spread with 2 tablespoons nut butter and layer 2-3 sliced strawberries on top in place of the traditional jelly (to cut down on sugar).
19. Savory Oatmeal With an Egg
Try taking oatmeal to a whole new level by making it savory. Prepare as usual with milk or water, but add a pinch of salt and pepper instead of any cinnamon or sugar, and top with an over-easy or poached egg. Sprinkle with a little cheese for an extra yummy kick.
20. Overnight Oats
This is the ultimate lazy-person breakfast. The night before, combine 1/2 cup milk, 1/3 cup rolled oats, 1/2 a banana (mashed), 1/4 cup chopped nuts, and a sprinkle of cinnamon in sealed Tupperware container. By morning, you'll have delicious overnight oats! These can be heated in the microwave for 1-2 minutes if in the mood for something warm.
21. Egg and Cheese Cups
Fried eggs are great, but what about baking a whole egg with veggies and cheese and skipping the added oil? Try making a pan of these egg and cheese cups at the beginning of the week and bringing one along each day. (Tip: If you use the individual silicone muffin molds, it makes the egg cups even more portable for on-the-go snacking.)
22. Homemade Instant Oatmeal
For anyone with a microwave or hot water at their disposal, these customized instant oatmeal packets are fantastic to have on hand. Instead of purchasing pre-made oatmeal packets, assemble your own in Ziploc baggies using whole rolled oats, cinnamon, and mix-ins like raisins and nuts.
23. Frozen Nutty Banana
Say banan-YEAH to this healthy snack. Cut 1 firm (but ripe) banana in half and un-peal, arrange on a small baking sheet or freezer-safe plate, and spread each half with 1 tablespoon almond butter evenly (on the sides not touching the plate). Here's the fun part: Stick whatever toppings you like on top of the almond butter—our favorites are granola, chia seeds, or flax seeds and cinnamon. Insert a popsicle stick or skewer into the cut end of each half, and freeze until solid (at least 2-3 hours).
24. Egg Sandwich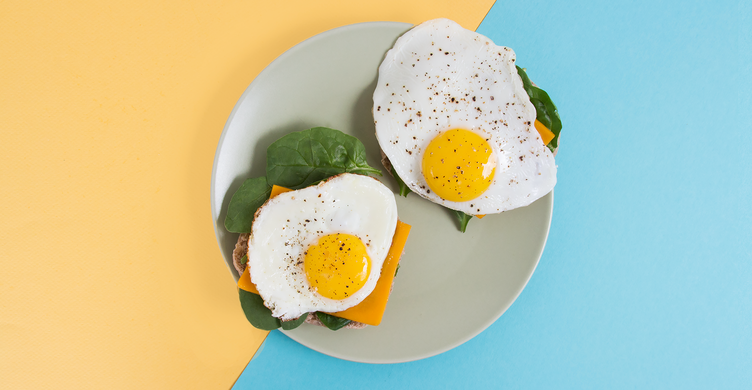 Who doesn't love a classic egg sandwich? Simply sautée a hefty handful of spinach and fry 2 eggs with a dash of salt and pepper. Place on top 2 whole-wheat English muffin halves (or toast) with 1 slice of cheddar cheese. Wrap in foil so the cheese melts evenly, and enjoy whenever the craving hits!
25. Chocolate-Banana Breakfast Quinoa
Here's one healthy way to have chocolate for breakfast: a bowlful of quinoa makes for a protein-rich filling breakfast, and the banana even adds a serving of fruit.
26. Fruit Soup
There are just two ingredients in this tasty, cool snack: Cold fresh fruit, and cold milk. Chop 1 cup of fruit of your choosing (peaches, plums, berries, and mango are delicious!) and combine in a container with 1 cup milk of choice. Keep chilled until ready to enjoy.
27. Apple Surprise
This is a perfect pick for apple season, Cut 1 apple in half and remove the core (plus a bit of the extra flesh around the core). Drop 1 tablespoon nut butter between the two holes, and sprinkle in 1 tablespoon granola. Wrap up the whole apple in plastic wrap or foil to save for later, or enjoy as is bite-by-bite.
28. PBB&C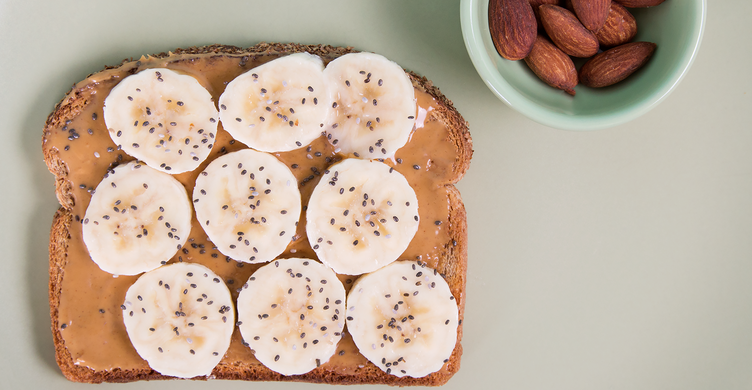 Say what? A PBB&C is a great twist on the classic PB&J—peanut butter, banana, and chia. Try adding this superfood twist to the classic PB sandwich with 1/2 a banana (sliced) and a sprinkle of chia, which is packed with vitamins and minerals (like six times more calcium than milk!).
29. Berries and Oats Microwave Muffin
Muffins from the microwave? Yep, it's possible! Add 1/4 cup quick oats, 1 egg, a handful of berries, and a sprinkling of brown sugar to a mug and mix until evenly combined. Microwave on high for 1 minute, remove to take a look, and keep cooking for 30 seconds at a time until the muffin looks firm.
30. Strawberry-Banana Quinoa Muffins
By this point, I think the Greatist team believes quinoa makesanything better. So, muffins? It's a no brainer. Try these strawberry quinoa muffins for an easily-packed snack or breakfast (or after lunch treat).
31. Pumpkin and Granola Parfait
This one's perfect to try out as fall sets in. In your favorite small Tupperware container (with a reliable lid!), top plain Greek yogurt with canned pumpkin puree and a handful of granola, then sprinkle with cinnamon. The best part? Pumpkin is a bonafide super food rich in beta carotene, which is essential for eye health.
32. Whole-Wheat Banana Blueberry Flax Muffins
At 200 calories each, these hearty, wholesome muffins make for the perfect portable breakfast. Flax lends a healthy dose of fiber and omega-3 fatty acids. Mashed bananas (one of our favorite healthy baking subsitutions) allow for a slight reduction in the added fat and sugar in this recipe, too.
33. Egg Muffins
Finally, a muffin without all the carbs. Plus, these guys are simple to make. Beat 10 eggs, 1/4 cup chopped onion, 3 handfuls of spinach, 1 shredded zucchini, 1/2 a bell pepper (chopped), 4 slices cooked bacon or ham, chopped, and a sprinkle of salt and pepper. Divide egg mixture evenly in a lightly-greased muffin tin, and bake for 20-25 minutes at 350 F. Zap it for a few seconds in the microwave before serving.
34. Lemon Poppy Seed Protein Squares
Here's a healthier take on the classic lemon-poppy seed muffin. Fiber-rich oat flour is paired with vanilla protein powder for a healthy, filling base. Yogurt lends moisture and some fat, and applesauce makes a great substitute for sugar. Vanilla extract, lemon zest, and (of course) make up the rest of the fresh flavor. The best part? One bar comes in at about 54 calories and six grams of protein—much better than any muffin we've seen on the shelves lately. Looking for more? Check out what health's top experts eat for breakfast.
source: greatist
featured image source: travelated